Fact file of the locomotives and rolling stock of the NWDMR

The railway has a vast fleet of locomotives of all types and sizes, everyone of them has a story to tell, which ones have you rode behind?
Stafford 0-4-0st 'R.J Goulding'
R.J Goulding' is a Stafford class 0-4-0st steam locomotive built by Station Road Steam in Lincolnshire in 2013 for her previous owner the late 'Richard Goulding', of whom the locomotive is now named after.
The loco ran a few times on a temporary track at Lodge Farm Park in Romford during the early days of the Havering Miniature Railway Club.
In 2017 the Epping Ongar Miniature Railway Group (EOMRG) purchased the loco for use on their portable track based at the Epping Ongar Heritage Line. The EOMRG was absorbed into the NWDMR when Blue Diamond offered the group the current site at the Harlow Garden Centre. 'R.J Goulding' returned to Lodge Farm Park for a brief visit, attending their Grand Opening as a visiting locomotive before finally arriving at her new home at the NWDMR in August 2019.
In 2020 she underwent a cosmetic overhaul and returned to steam in May 2021!
​
Status: For Sale
Jenko, is a battery electric 'Comet class' locomotive, privately owned by Jenkins locomotives. Jenko came to us from the Lodge Farm Park Railway in Romford, and has played a big part in both hauling passengers and hauling engineering trains building the railway. It's seen on most running days, as one of our main locos. Jenko was built in 2014 by Phoenix Locomotives of Southport. Jenko was purchased brand new also by the late Richard Goulding, so it seems fitting that both of his locomotives now reside at the NWDMR.
​
Status: Operational
'Bigfoot', is an American switcher style battery locomotive, that came to us from the Epping Ongar Miniature Railway Group. The locomotive was built in 2018, it was operated by the EOMRG on their portable track at various events around Essex before arriving at the NWMDR in December 2019.
The loco has seen little use since its arrival and was put up for sale in 2023. Please contact us for details.
Status: For Sale
CMD Knight Class 'Frances'
Frances is a CMD Engineering Knight class petrol hydraulic locomotive. Delivered brand new to the railway in January 2021. Built by CMD Engineering in Kent, 'Frances' is privately owned by Jenkins Locomotives. It's a 7 Horsepower locomotive and was named in honour of a late Family member, the locomotive was ordered just before they passed away.
​
Status: Operational
​
Yet another new locomotive to add to the fleet, modelled on a full size 'Sentinel' type of Diesel hydraulic shunter. Arrived at the railway in October 2022 sporting a purple livery, and has since under-gone an extensive cosmetic refit, now sporting BR Blue colours. With the same power output as Frances, the pair make up our internal combustion powered fleet.
​
Status: Operational
An AME Excalibur class co-co sit in battery electric locomotive, privately owned by Jenkins locomotives and now based at the railway. The Largest and most powerful member of the battery electric fleet and entered service along with our new track extension in August 2022! Painted in an army green and lined out in British Railways late crest livery!
​
Status: Operational
Another AME Locomotive, 'Odin' is a member of the AME Neptune 4 class of Bo-Bo locomotives. Odin Joined the fleet in Summer 2022 and is privately owned by one of our members! Finished in a striking BR Maroon Livery 'Odin' has proven to be a very capable locomotive and fits right in with the NWMDR Fleet!
​
Status: Operational
A scale model of a Sri Lankan M7 Bo-Bo class Locomotive, 'Mount Lavina' is the latest addition to the NWDMR Fleet, being privately owned, the loco is immensely powerful like its full size counterparts and brings another sense of variety to the fleet!
Status: Out of service
Another new locomotive addition to the fleet, from Phoenix locos and also with many thanks to CMD Engineering for doing the various improvements and mods on it which were needed. 'D.F Jenkins' is of similar design to our long standing stalwart Jenko! Privately owned by Jenkins Locomotives.
​
Status: Operational
Warship Class 'Onslaught'
Phoenix Locos Class 42 Warship, in BR Green. Powerful Locomotive as per in real life and is a fine replica of the real life locomotive in 1/8" scale. This features electric drive with realistic sound, to sound like the full sized loco. This is privately owned and will be seen hauling services from Spring 2022. Currently out of service for wheelset modifications.
Status: Out of Service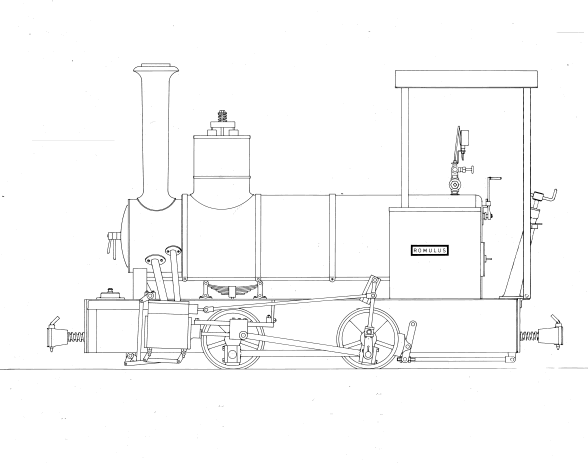 Romulus class steam locomotive "Tiddley B"
Tiddley B is a Romulus class 0-4-0WT locomotive, currently under construction by the railways engineering team. Construction began in summer 2021. The loco is named after a WWII Royal Navy "Town Class" Light Cruiser
​
Status: Under construction
We often host a variety of visiting locomotives throughout the year, particularly at gala events, keep an eye out for special event days on our Facebook feed. We welcome visitors, so please contact us and we can advise you of the requirements.
We have a fleet of 4 Blue sit in coaches, built by CMD Engineering. Previously ran on the Fenn Bell Miniature Railway & The Barnards Miniature Railway.
Owned by Jenkins locomotives two car set of coaches, that used to run on the ex Barleylands Miniature Railway & Barnards & Havering Miniature Railways , are now resident on the NWDMR. These are about 30 years old and offer a nice bit of heritage. Although a fair squeeze to get in, which makes it fun!